Is X-CD in compliance with California State privacy laws, specifically the CCPA?
Our system is setup to comply with the GDPR which sets a higher standard than California's privacy policy laws.

The CCPA only applies to some companies. Businesses must comply if they:
Have gross annual revenues of $25 million or more;




Have data on 50,000 or more individuals, households or devices; or




Earn more than half their annual revenue from selling consumers' personal information



X-CD does not fit into this category nor do most of our clients. Its also questionable whether a member of an association is considered a consumer under the act. We would argue they are not.

Regardless all contact (speakers, attendees, chairs, members, etc.) when they first use a client abstract, registration or membership module each contact must agree to the following: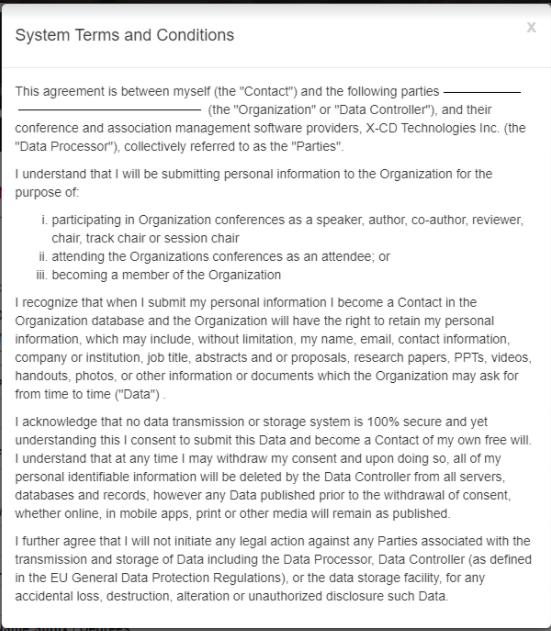 This offers a first level of protection to our clients.
We also offer clients the ability to remove old contacts who are no longer members or those individuals who have asked to be removed. Its also important that ASPE clean their database of old contacts who under the GDPR or other local state or international legislation should not be contacted due to time limits in the database. Finally, in our email management system we offer our clients the ability to setup email preferences which can be used to control which emails are sent to anyone.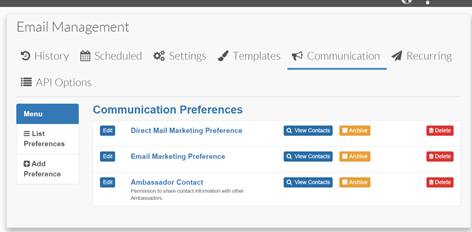 Related Articles

GDPR Compliance

The Q&A below briefly answers some general questions about the GDPR. In no way is it exhaustive and should not be relied on as a sole means of information. You are strongly advised to seek advice from an independent legal representative to see how ...

X-CD Privacy Policy

What is X-CD's Privacy Policy All data collected, by the our clients including, but not limited to registrant details, submitter names, email addresses, all personal information, membership profiles, abstracts, proposals, PowerPoints, PDFs, zip ...

X-CD MailChimp Integration

The MailChimp integration will synchronize the X-CD contacts with your Mailchimp mailing list. Any changes made to an X-CD contact will be updated in Mailchimp. View the Mailchimp Integration Document Click HERE to download the mailchimp integration ...

X-CD for WordPress

What is this PlugIn? WordPress is a very popular website platform that your association may use for your own website. Many developers around the world contribute to the open source WordPress project by creating plugins or widgets for all WordPress ...

About Membership in X-CD

The X-CD Membership Module gives your members private access to member materials and to pay their dues. Integration with the Attendee and Submission Modules, provides single access in ONE place to register for your conference, submit speaker data and ...