How to setup emails to Track Chairs on submission?
Click Dashboard

Click Speaker Module

Click Review button

Click Track Chair in horizontal menu

Select Settings

Scroll down to Manage Emails section of the screen

Enable the applicable Email setting for Track Chair/Lead Chair by selecting the 'On' radio button

Update the Email Content

Click Update Settings button to save your changes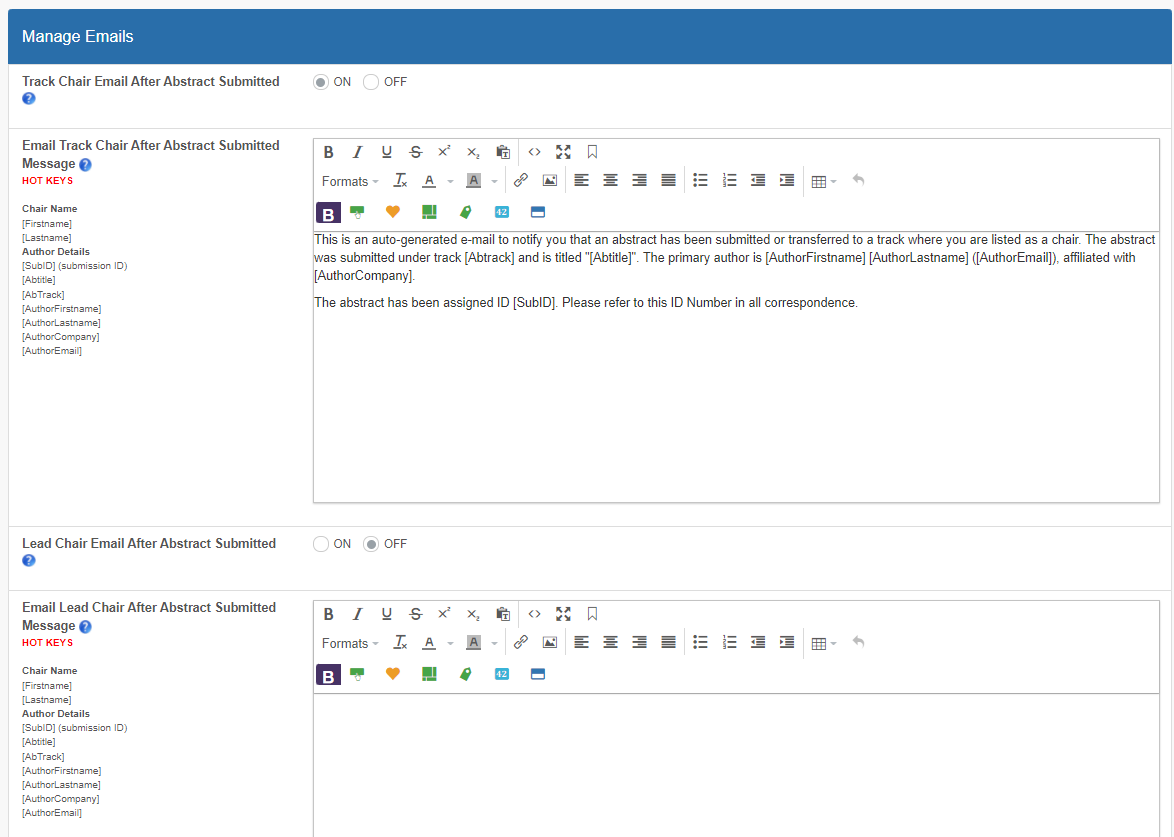 Related Articles

Configure Track Chair Module

The Track Chair Module allows you to designate a Lead Chair (i.e. Track Chair) for a Review Panel of a specific Track. The Track Chair will have access to assign reviewers within a track and maintain an overview of the reviewer progress and be able ...

How to Send an Email to all Track Chairs?

Click Dashboard Click Speaker module Click Reports button Click Chairs tab Click Find button for All Track Chairs Click Send Email button Compose message Send or Schedule the email using the calendar icon

Using Track Chair to Manage the Review Process

The X-CD Track Chair Module is one of the most flexible modules of the X-CD system and it gives you, the track chairs, several tools for managing the review process. STOP If you used the Reviewer Sign-up form method to collect your list of reviewers, ...

How to Import Track Chairs

NOTE: The Track Chair must already have a contact profile in the system. If your Track Chair does not have an account, you must add a Contact first to create a contact profile. If there are many, you may use the Contact Import to create the new ...

Track Chair Review Process with Reviewer Sign-up Form

If you used the Reviewer Sign-up form to collect the Reviewer Pool, follow the below steps to manage reviewer assignments. Assign Abstract Reviewers by Reviewer Sign-up Form Filters Log in to the Track Chair Module Select the Track to view In the ...