How to set Filter options in the Online Program
Click Dashboard
Click Speaker Module
Click Program button
Click Public Program & Settings in the horizontal menu
Select Display Settings

Enable/Disable Search
Presentation Only Filter = will only show presentations and will not show sessions
Keyword Search Label = Define an alternate label to be displayed
Keyword Filter Help Text = add Help instructions for Keyword Filter
Sessions with Credit Option = Display only Session with credits (Note: must be using the X-CD Credits Management module)
Sessions with Credits Label = Define an alternate label to be displayed

Include Filter by Field = click to view a list of available submission fields (per module) and select the fields you want to include as a filter. More than one field may be selected.



Scroll down, click Update button to save changes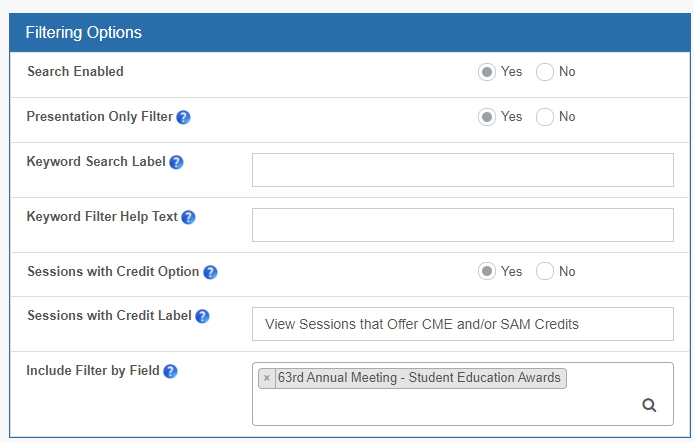 Related Articles

How to Display the Session Numbers in the Online Program?

Note: If you have assigned numbers to your Sessions, you can set these numbers to display in the program. These numbers will appear before the Session Title. Click Dashboard Click Speaker Module Click Program button Click Public Program & Settings in ...

Filters on List Fields Screens

This article is applicable to the following modules: Attendee Module Exhibitor Module Forms Module To access these filters, click into the appropriate module, click Settings and navigate to the Manage Fields screen (in Forms Module) / Registration ...

How do I add an Upload Paper / File / Presentation Submission Step

To add a step to Upload File(s): Set Step Type Once Per Submission = linked to each submission Once Per Conference = linked to an individual Enter Step Label i.e. Upload File(s) Select Step Definition Powerpoint = Presentation file Poster = Poster ...

What are Field Definitions?

Field Definitions allow for more advanced functions to be performed using your customizable submission fields. For example, your form might have multiple Text fields where you ask submitters to enter different things. One of those fields can be ...

Credits Module Settings

What are the different settings for the Education Credits Screen? Click Dashboard Click Credits Management in left side menu If you have more than one conference, select Conference from the dropdown list Click Settings button You may Set or Update ...