How to Display Session Information for Scheduled Submissions?
Click Dashboard
Click Speakers Module
Click Settings button
Click Submission Steps in the horizontal menu
Click Add New Step button
Select Step Type = Once per Submission
Enter a Step Label i.e. this is the label the end user will see on the button in the Submission site NOTE: Keep the Label Name Short

Select Step Definition = View Session Assignment

Click Create button


Click Edit beside the step created
Define further settings such as:
Display to > Authors and Co-Authors

Display Only To Session IDs (optional) > select if you only want to display the Session information select sessions in the program; if none are selected then this button will display for all submissions, even submissions that are not scheduled in the program.
Click Update Step button
On the Front-end, when the user logs into the submission site, they will see a Session Details button for each submission. Clicking on the Session Details button will display the following pop-up screen with the Session information if the submission has been scheduled in the program.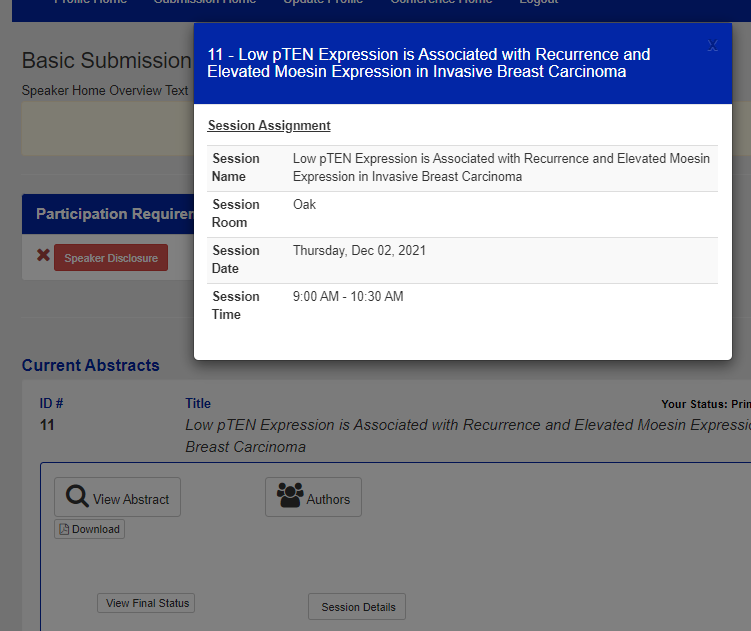 If a Submission has not be schedule yet into the program, the following information will appear on the front-end.


Related Articles

How to Display the Session Numbers in the Online Program?

Note: If you have assigned numbers to your Sessions, you can set these numbers to display in the program. These numbers will appear before the Session Title. Click Dashboard Click Speaker Module Click Program button Click Public Program & Settings in ...

How to display Chairs in the Program?

Click Dashboard Click Speaker Module Click Program button Click Public Program & Settings in the horizontal menu Under the Participant Output Format section Display Session Chairs = Yes (This will display the Chairs in the online program) Session ...

Filtering Submissions

How to Filter Submissions and download or Email? In the Manage Submissions screen, use the Filtering option to use custom search criteria to find submissions, to easily send out an email or download information. Click Dashboard Click Speaker module ...

How To Edit an Existing Session?

TIP: Click the ? symbol for more information about the field. Click Dashboard Click Speaker Module Click Program button Click Sessions in the horizontal menu Select Manage Sessions Find the session using the search bar or filters or scroll to it. ...

How to Add Submissions to a Session?

NOTE: When building a program, you will be able to select submissions from different submission modules. For example, if there is a 1) Paper Submission module and 2) Clinical Trials Submission module, when adding submitted items to the program, ...