How do users upload an ePoster?
End users will login to the submission site and there will be an Upload ePoster button (or similar named button) to click on that will allow the user to browse for the poster file (PDF) on their computer to upload.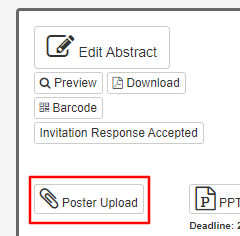 Once the poster file has been uploaded, it will appear in the ePoster Site.

Note: There may be a 5 min delay for the poster to appear. If you do not see the poster after waiting 5 minutes, refresh your browser view using CTRL-R.
Related Articles

How do I add an Upload Paper / File / Presentation Submission Step

To add a step to Upload File(s): Set Step Type Once Per Submission = linked to each submission Once Per Conference = linked to an individual Enter Step Label i.e. Upload File(s) Select Step Definition Powerpoint = Presentation file Poster = Poster ...

How to Manually Upload a File to a Submission

In some cases, the end user may have trouble uploading a file/files to their submission. If this is the case, obtain the file from the end user and upload it for the user through the admin screen. Click Dashboard Click Speakers Module ...

File Manager

The File Manager button will allow you to access your Upload Files area to upload a new file, insert a link to an uploaded document or insert an image. The File Manager button is accessible from any screen that contains the insert link or image icon ...

What format do ePosters need to be in?

You, as the client, may dictate poster dimension restrictions'. In X-CD there are no specific poster size format restrictions for the poster dimensions. other than you should maintain a 2:1 ratio between width to height of the poster size. Posters ...

ePoster Site Configuration

Your ePoster Site will be set up by an X-CD staff person who will provide you with the direct link to access the front-end of the ePoster Site. Note: In order for your ePoster site to be configured, you will need to create a Poster Session in your ...