Hiding Flags within Contact Form Fields
Within the contact form in the contacts module, when users select their country and phone numbers, by default, the country flags will appear on the front end.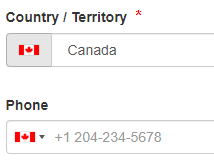 To remove the flags from displaying in these fields, follow the steps below:
From the main dashboard in the admin site, click the Contacts Module in the left-hand menu

Click the green Contact Forms button at the top of the screen

There is a switch labelled "Display Country flag in Country & Phone Fields" - To hide the flags, move the switch to display "No"


Related Articles

How to Access the Main Contact Profile Form and How to Edit Contact Form Fields?

Click Dashboard Click Contacts Module Click Contacts Form button You will see a list of all fields that appear on the Contact Profile form. NOTE: Each module will also have a contact profile menu option in the Settings screen, where you can set the ...

Creating Application Forms & Settings

NOTE: These forms are independent from the Submission forms in the Speaker Module and Registration forms in the Attendee/Exhibitor Modules. For Submissions Forms - use the Speaker Module. For Registration Forms - use the corresponding Attendee or ...

Company Profile Fields

The companies module has a distinct company profile with company profile fields. There is a set of standard X-CD defined company profile fields. These fields cannot be removed, but can be re-labelled. You may defined your own set of fields which will ...

Assign & Manage Application Reviewers within the Forms Module

The Application Reviewer Form is independent to the Submission Reviewer Module. The purpose of the Forms Module Review, will allow you to build an Reviewer Grading form for a specific form that has been created within the Forms Module. For example, ...

Managing Application Forms

How to access an existing Form to make changes? Click Dashboard Click Forms icon located between Conferences and Other Tools From the Form list, locate and click on the Form to edit Click Settings button Click Manage Form Fields in horizontal menu to ...