Editing Transcriptions (Closed Captioning) and Translations
If your conference organizer has enabled translation and transcription capabilities for the event, there will be a spot in your speaker profile to edit the text.

1. Log into your speaker profile.


You will see a button that says Edit Transcription 1 (one) hour after your video has been uploaded. It is not instant.

2. If your video is going to be translated into 1 or more languages, you will see a drop down. If the conference is only being transcribed (closed captioning) skip to the next step - the language will already be chosen for you.


3. Once you have selected the language, or you are editing the primary language closed captioning, this screen will appear. You will have the ability to edit the transcription and/or translation line by line. Once you have reviewed all of the lines, press Submit Revisions.


There is no ability to download a file of the transcription or translation - edits must be done on screen

If there are translations - you must edit all languages. Editing one language will not update the others language (eg. changing the English text will not automatically get updated in the French text - both need to be edited separately.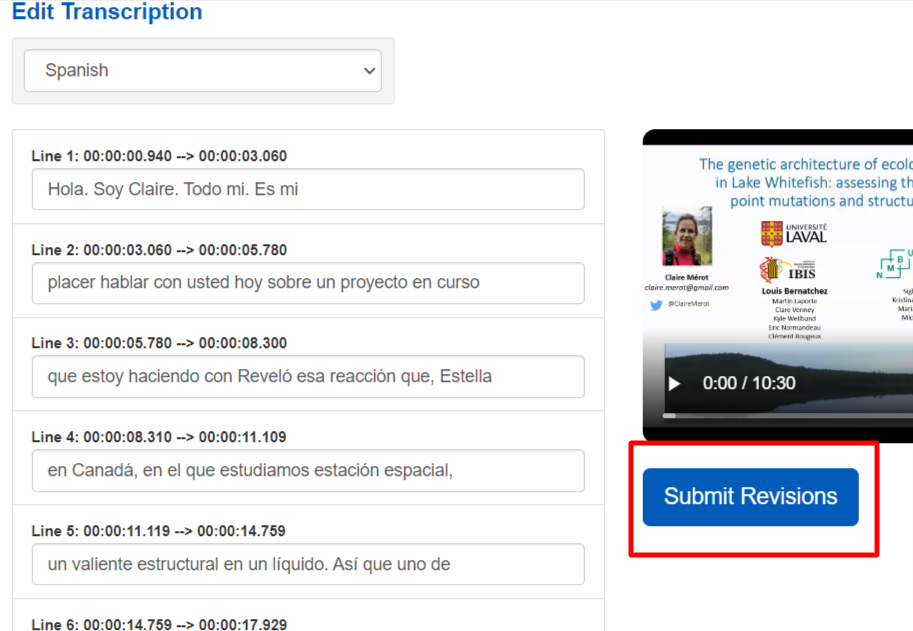 Related Articles

Setting the Profile Home Link open/closed from a module

What does setting the Profile Home link from within a module to Open or Closed do? Regardless of which module (i.e. Speaker, Registration, Exhibitor) the Profile Home Link is being set under System Status, when selecting 'Open', this means on the ...

How to Enable / Disable Users from Editing their Profile Information?

Click Dashboard Click Contacts Module in left side menu Click Manage Contact Forms in left side menu Click System Contact Form Settings Set Block Contacts From Edit Profile Yes = disable editing No = allows editing If you are using X-CD to manage ...

How To Edit an Existing Session?

TIP: Click the ? symbol for more information about the field. Click Dashboard Click Speaker Module Click Program button Click Sessions in the horizontal menu Select Manage Sessions Find the session using the search bar or filters or scroll to it. ...

Settings for Withdrawing, Limiting Number of Submissions or Authors and Editing Privileges

How to set the system to allow Submitters to Withdraw themselves? If you want to allow submitters to withdraw themselves, enable this setting. By enabling this, a withdraw button will appear on the front-end that submitters will be able to click and ...

Editing Submission Email Content

How to edit email content submitters receive? Click Dashboard Click Speakers Module Click Settings button Click Emails in the horizontal menu Edit the text box labelled 'Abstract Submission Email Text' Scroll down, click Update button to save ...