Download Session or Overall Conference Evaluation Data
Click Dashboard


Click the Conference Name to manage it



Click the Evaluations tab at the top





View the total number of evaluations and evaluators at the top

Generate the overall conference evaluation summary file by clicking the button with the form's name

When the processing is down click either Download PDF or Download DOC button.

Click the Download All Sessions button to download all the sessions

Download the session's data by clicking download XLS in the corresponding session row.

User the filters to narrow down the sessions, filter based on date or session type.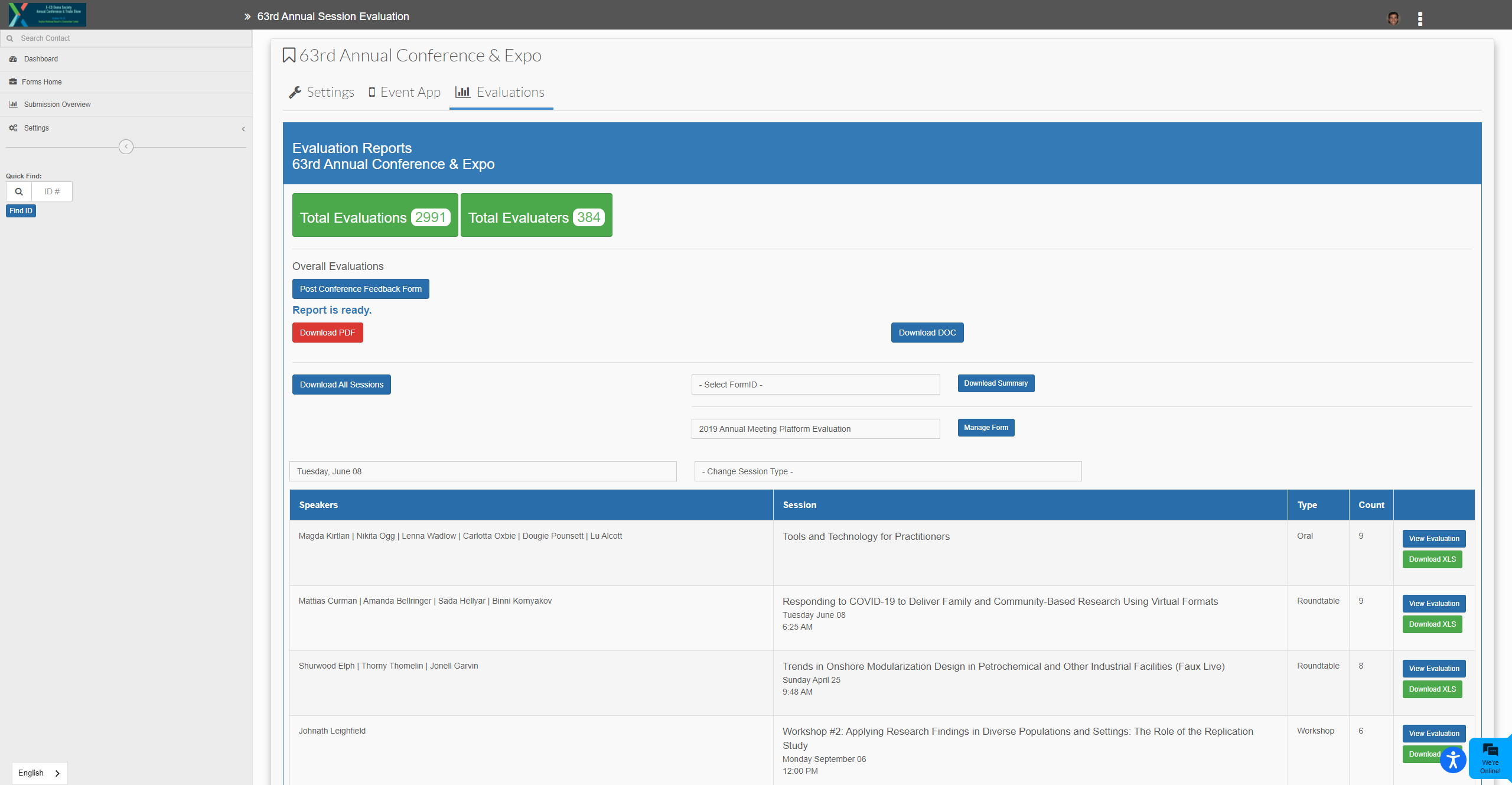 Related Articles

How to Link an Evaluation Form to a Conference

Click Dashboard Click Forms icon located between Conferences and Other Tools From the Form list, locate and click on the Form to edit Click Settings in left side menu Select Manage Settings In the Related Conference field, select the Conference from ...

How to Download a list of Chairs or email Chairs

NOTE: This allows you to send an email to or download the data of any of your defined Session Chair types in X-CD e.g. Panelists, Moderator, Co-Chair. Click on Dashboard Under the Conference Event, click Manage Program link Click Sessions in the ...

How to Download Company Data

Click Dashboard Click Companies Module in left-side menu If applicable, use the filter to search for a subset of companies e.g. To find all companies in Canada, select Country from the dropdown list and enter the search criteria Canada Click the ...

Overall Conference Evaluation

Overall Conference Evaluations can be added to the app so that your conference can be reviewed straight from a phone. Conference Evaluation in the Mobile App When in the mobile app, participants can find the evaluation by clicking on the menu button ...

Downloading Data in Credits Module

How to download the Session Evaluation Report(s)? Click Dashboard Click Credits Management in left side menu In Select Conference, pick the appropriate Conference from the dropdown list Click Sessions button Click Download Evaluations button Select ...